Read Time:
1 Minute, 46 Second
Elon Musk is not backing down.
Musk shared an email sent from an NPR reporter to Twitter explaining why NPR left the social media platform.  NPR says they deleted 50+ Twitter accounts.
Musk demolished NPR in his response.  The tech and automobile mogul pointed out that NPR admits to federal funding on THEIR OWN WEBSITE!
NPR literally says Federal funding is *essential* on their website right now at https://t.co/QA8TUZxmNO

What have you got against the truth @NPR? pic.twitter.com/3W0X0MsZYW

— Elon Musk (@elonmusk) April 13, 2023
Full email: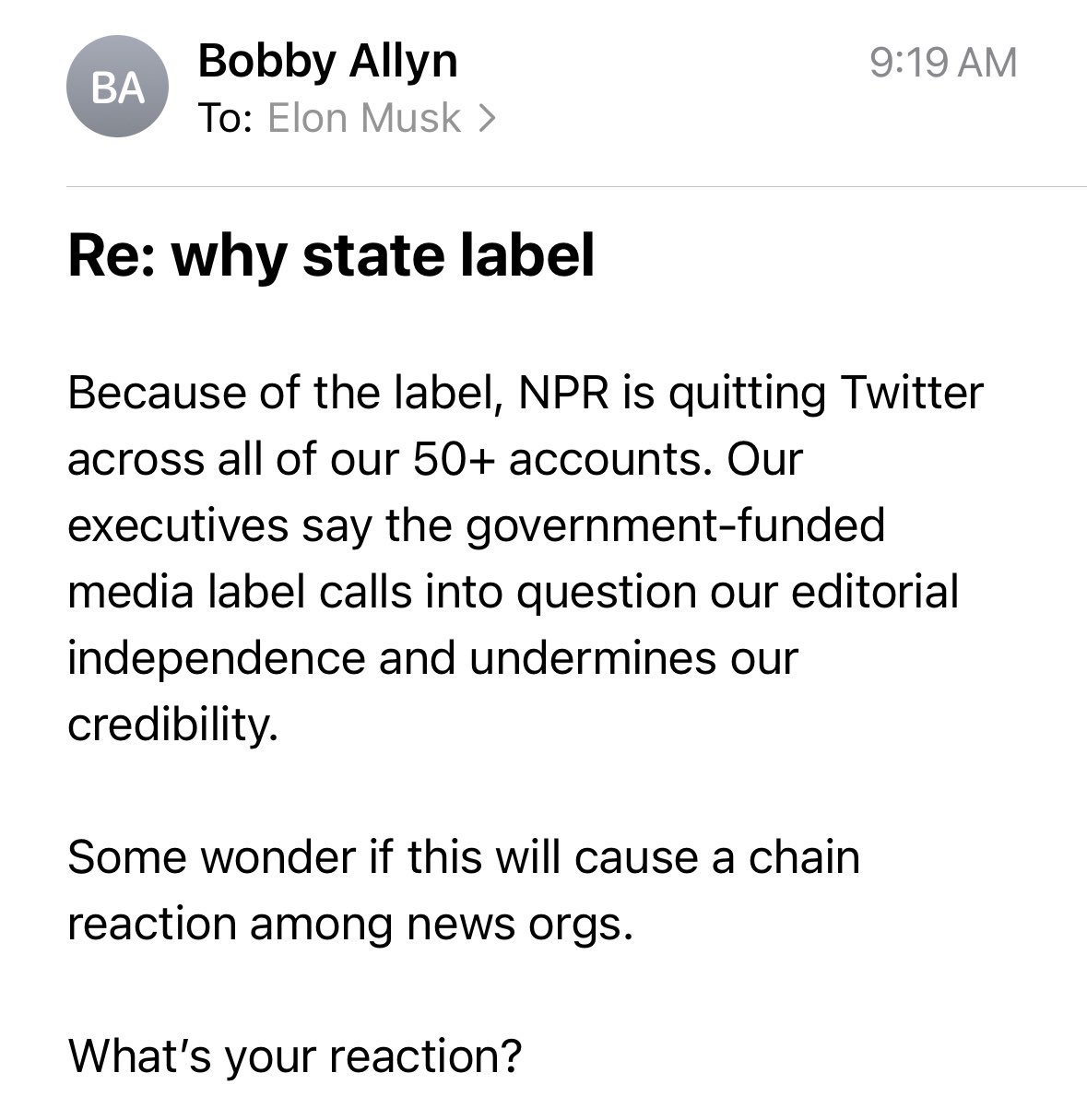 Twitter changed NPR's label to "US State-Affiliated Media" earlier in April.
They later changed it to "government-funded media."
Twitter made another change this week labeling National Public Radio (NPR) as "US State-Affiliated Media."

This was long overdue.

NPR is a state-funded media outlet that exclusively reports with a Marxist pro-Democrat slant. The outlet frequently pushes fake news on Russian conspiracies and everything related to COVID.

This is good news.
NPR quit Twitter over the change.
National Public Radio is quitting Twitter after the social media platform owned by Elon Musk stamped NPR's account with labels the news organization says are intended to undermine its credibility.

Twitter labeled NPR's main account last week as "state-affiliated media, " a term also used to identify media outlets controlled or heavily influenced by authoritarian governments, such as Russia and China. Twitter later changed the label to "government-funded media," but to NPR — which relies on the government for a tiny fraction of its funding — it's still misleading.

NPR said in a statement Wednesday that it "will no longer be active on Twitter because the platform is taking actions that undermine our credibility by falsely implying that we are not editorially independent."
The biased mainstream media is finally getting called out and they don't like it!
For the antidote to media bias, check out ProTrumpNews.com…
The post Elon Musk Exposes Government-Funded Media's Email After NPR And PBS Leave Twitter in a Huff appeared first on The Gateway Pundit.